Today I'll share my incredible secret with you guys.
Long long time ago
, not so long actually, ten years ago I was an artist. My life was loaded with watercolors. All day and night I painted the fantastic things ever been painted in this world. I drew Elephants of Egypt, Rabbit holes, Mango trees, Mountains of Yuu-Yuu
<
-- that's a place you won't know about
, Atlantic ocean, random houses on random streets, people I happen to saw and even myself. The thing was they weren't just any paintings. They were enchanting like my never-ending magical watercolors I received from Mr. Lil Bo when I visited the Tinted Pond
<-- another place you won't know about. It's otherworldly, you see.
One look at the painting and you're bewitched. I was the new Picasso.
<-- or whoever is the most famous artist
.
Funnily enough it used to drive my family crazy. They would say behind my back
<-- I have this habit of eavesdropping
'
She's only ten. Why doesn't she play with dolls like other girls of her age? Why does she paint all day? Why does she have a blank stare when she isn't painting? Why doesn't she talk to us? Why doesn't she want to watch the new Barbie movie? Why, why, why??'.
It bothered them a lot. It bothered me that it bothered them still I was too young to give a damn. One day
a big bald man with plenty of love handles
came to our house.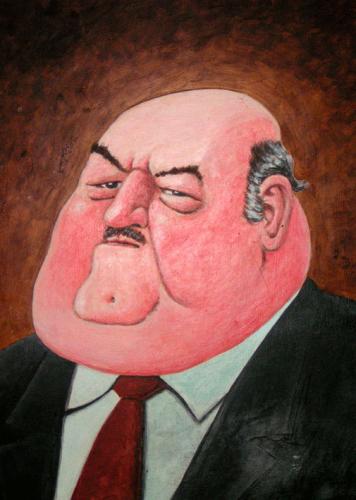 He looked kind of like this.
He had heard of my paintings and wanted to purchase
alllllllllll
of them. He'd also heard of my never-ending magical watercolors. He was willing to give millions of dollars for them. My family sold
alllllllllll
of them
<-- and spent alllllllllll the money, too
while I was brainstorming in my bathtub.
I
had this fantastic idea --> auburn fox winking at a purple dancing moon. Marvelous, right?.
Anyway. In two minutes my colorful world became the bleakest place ever. I wouldn't sleep. I wouldn't eat. I wouldn't talk. I wouldn't dream. I wouldn't even take a bath. Just because I couldn't paint. My family tired of messy
and very smelly
me sought after the big bald man with plenty of love handles. He had vanished into thin air. My heart had shattered into tiny shimmery pieces. I cried and I cried. It rained, I cried. It hailed, I cried. Trees shed leaves, I cried. It snowed, I cried. Nobody knew my pain. Everything reminded me of painting. I was an empty shell with a dead soul.
Whatever that means.
An year passed and I changed. I turned 11 and learnt to use computer. My new passion was drawing pictures on Paint. So instead of dying with a broken heart, I decided to love pixels.
Sadly am
unskilled
not too good at it.
Mountains of Yuu-Yuu.
Okay. So I was bored. I never was an artist.
I draw crappy pictures.
Sidrah xx o(^_^)o